About Habitat for Humanity HiawathaLand
Habitat for Humanity HiawathaLand is part of a global, nonprofit housing organization operated on Christian principles that seeks to put God's love into action by building and repairing homes, communities and hope.
Habitat for Humanity HiawathaLand is dedicated to eliminating substandard housing locally and worldwide through constructing, rehabilitating and preserving homes; by advocating for fair and just housing policies; and by providing training and access to resources to help families improve their shelter conditions.
Habitat for Humanity was founded on the conviction that every man, woman and child should have a simple, durable place to live in dignity and safety, and that decent shelter in decent communities should be a matter of conscience and action for all.
About Habitat for Humanity International
"I see life as both a gift and a responsibility. My responsibility is to use what God has given me to help his people in need."
-Millard Fuller, Founder of Habitat for Humanity International
Founded by Millard and Linda Fuller in Americus, Georgia, in 1976, Habitat for Humanity today operates around the globe. Through the work of Habitat, thousands of low-income families have found new hope in the form of affordable housing. Churches, community groups and others have joined together to successfully tackle a significant social problem–decent housing for all. Today, Habitat has helped build or repair more than 1,000,000 houses and served more than 5 million people around the world.
More about the History of Habitat.
FAQ's about Habitat International.
Habitat for Humanity HiawathaLand's Most Popular Program
A Brush with Kindness is an exterior home preservation program that offers painting, landscaping and minor repair services to eligible homeowners so they can continue to live in safe, decent homes for years to come. Projects include painting, landscaping, weatherization and minor repair services.
How does the program work?
Habitat selects partner families based on income, need and willingness to partner.
Habitat affiliates use volunteer labor and donated materials to keep costs low and take no profit for their services.
A no-interest loan is made to the homeowner to cover the cost of the project. Payments are placed in a revolving fund to help A Brush with Kindness serve others in need.
This program would not be possible without the generosity of Valspar, the co-founder and underwriter of the A Brush with Kindness program.
Why does Habitat for Humanity offer these exterior maintenance services?
Families live in safe and well-maintained homes.
Neighborhoods are revitalized.
Community connections are made.
Affordable housing inventory is preserved.
All Are Welcome
Habitat for Humanity HiawathaLand has an open-door policy: All who believe that everyone needs a decent, affordable place to live are welcome to help with the work, regardless of race, religion, age, gender, political views or any of the other distinctions that too often divide people.
In short, Habitat welcomes volunteers and supporters from all backgrounds and also serves people in need of decent housing regardless of race or religion. As a matter of policy, Habitat for Humanity International and its affiliated organizations do not proselytize. This means that Habitat will not offer assistance on the expressed or implied condition that people must either adhere to or convert to a particular faith, or listen and respond to messaging designed to induce conversion to a particular faith.
HFHH Ramp Rental Service
Our affiliate now has a ramp rental service. The ramp is made by Freedom Rampz and is available on a temporary basis. It is being offered for rent on a monthly basis for up to six months. We will bring it to you, install it, and remove it when done. It is ideal for someone who is recovering from hip or knee replacement surgery, saving money to have a permanent ramp built, or temporarily caring for someone who is wheelchair bound. If you have questions or are interested in renting our ramp, please call our office at 341-7437.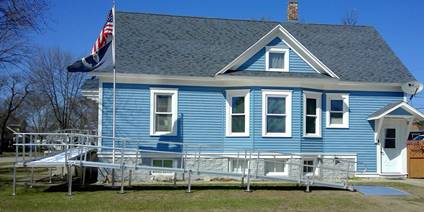 Habitat: What We Build